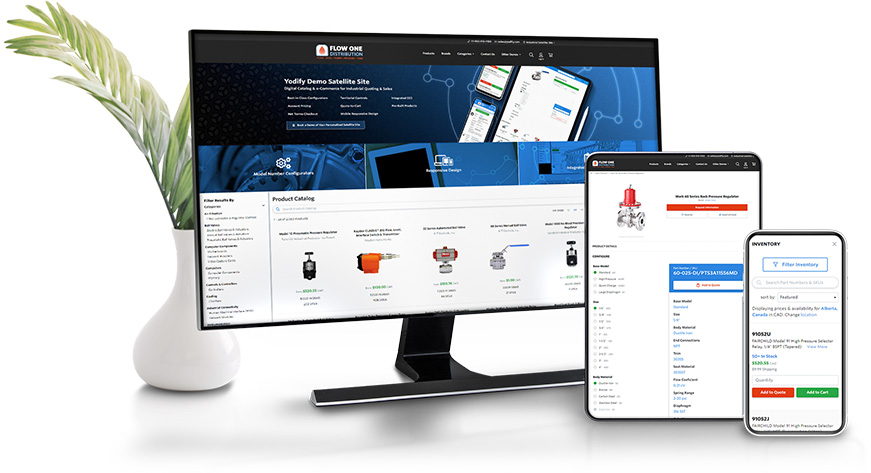 Our Heritage
The History of Yodify
Yodify is the result of a 25-year passion for providing innovative, powerful, and elegant catalog and e-commerce solutions for companies to transform their online presence, lower their costs, and unlock their potential by streamlining and delivering timely knowledge, engaging their audience, and enhancing value.
Founded in 2014, Yodify began the complex task of building a proprietary platform to enable industrial clients to easily create their own websites with interactive product catalogs that were e-commerce-ready.
In addition to a portal where clients could control and update their Yodify-powered websites and manage their product catalogs, we created the Product Library, which enabled brands to list their products so distributors, resellers, etc. could simply add up-to-date brand-narrated products to their individual Yodify-powered websites.
We imagined brands, engineers, and facility designers creating secure, project-specific websites to showcase and support their deliverables, complete with readily accessible contract, product, maintenance, and support information.
In the industrial world, many processes are mission-critical and relied on by millions of people. We lived this mindset every day, so when we built the Yodify platform, we tested it on ourselves exhaustively in real-world situations every day for years, because until we were certain it was rock-solid, reliable, and had all the functionality we envisioned, we weren't willing to take it to market.
Our goal wasn't simply to get to market; it was to build a world-class, reliable, and easy-to-use platform complete with the tools and functionality to enable our prospective customers to not only build a great website but build any product and any catalog they desired, regardless of their complexity.
Designing, developing, and managing mission-critical e-commerce and data management solutions built on decades of innovative thinking and methodical problem solving is in our DNA.
Our Talents
Innovative and Committed
Team members at Yodify participate in an environment resolutely focused on inventiveness. Committed teams that innovate continuously are what fuel our growth.
Inventiveness is a key part of who we are; it is a hallmark of Yodify. Inventiveness combines creativity, pragmatism, and imagination, encompassing our ability to identify, create, and provide simple and ground-breaking solutions.
We power online catalogs and stores for sales, distribution, and manufacturing clients worldwide. Our customers, at the center of everything we do, demand websites that combine great design, exceptional functionality, and rock-solid performance.
Built with sophisticated yet easy-to-use tools, Yodify's e-commerce and catalog platform empowers businesses of all sizes and industries to create and manage websites that represent their unique identities and requirements.
We deliver best-in-class design, functionality, and performance.
Our Vision & Ambition
Seeing the Future
We see a future of unprecedented potential; we're inspired to create the best e-commerce platform in the world for our clients; and we constantly push the boundaries of what is possible, knowing new realities await with our unique combination of vision, determination, dedication, and design.
Our mission is to vastly improve your value chain efficiency by harnessing Yodify as your competitive advantage.
How We're Different
Our Methodology
Excellence, perfection, and top-level customer service underpin everything we do; we make the impossible a reality.
Complementing and coordinating with our research, design, and development teams, our data team assists manufacturers and their network partners in populating their products into brand catalogs that become the single source of truth, a brand-controlled product narrative for everyone representing the brand.
The Yodify Library empowers manufacturers and their distribution channels to shift their focus from content creation to content curation, massively reducing the time and resources needed to populate and maintain their ever-changing catalogs.
This combination of functionality allows clients total control to curate, refine, and create content in their own vision on a vastly expedited launch timeline.
Many of our clients launch in as little as 1-3 weeks.
How We Can Help
Our team will show you what we can do
Our team would love to walk you through a personalized demo of a website tailored for you. We'll show you how easy it is to have a website you'll be proud of and how easy it is to address your specific business needs.
Book a Demo
---
Yodify You
Power to the people - Yodify's retail solution
Once our B2B business was established, we looked at our functionality and thought how this could help retail sellers around the world get their fledgling start-up or small business off the ground in the online space.
The functionality already existed within the platform, so we made the decision to empower virtually anyone to launch their empire with their choice of two very economical versions, while still providing a host of powerful features we'd built for established businesses. Read more about our retail solutions at yodify.com/you